Learn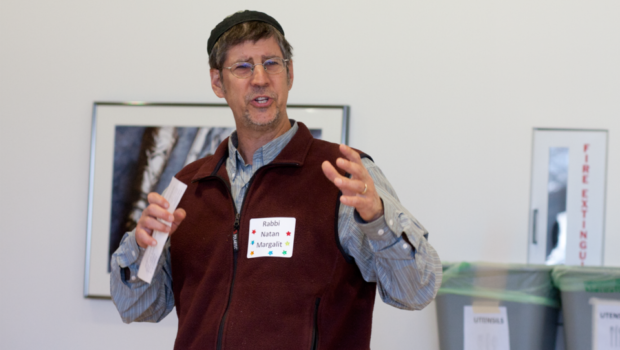 Published on May 15th, 2018 | by Leah Lazer
0
Scholar in Residence
Bring Rabbi Margalit as a Scholar in Residence, for a Shabbaton, or for customized workshops. Choose from these topics, or suggest your own idea:
1. Ecological Judaism for the 21st Century

• Find an Eco-Jewish perspective that inspires us to action.
• Explore Jewish contributions to fighting climate change, ecological degradation and creating a flourishing world.
• Develop new ways to see ourselves as integral parts of the miracle of Life.
2. Organic Torah: A New Synthesis
• Find a new harmony between science and religion.
• Explore how Jewish "organic thinking" helps us with in many areas from environment to spirituality, from health to social justice.
• Develop a new, integrated way of looking at Jewish texts, nature and ourselves.
3. Tree of Life Learning: How to Read Classic Jewish Texts So They Come Alive
• Find the deep meanings hidden in perplexing biblical, rabbinic and mystical texts.
• Explore the ways that these ancient texts give insights into our own lives.
• Develop confidence and skills in opening up the secrets of our textual heritage.
4. The Holistic Spiritual Journey: Jewish Paths to Connection, Creativity and Fulfillment
• Find a combination of traditional and innovative Jewish paths to spiritual growth.
• Explore meditation, movement, dynamic discussion, textual play and more.
• Develop your own skills and practices for continued spiritual growth.
RABBI NATAN MARGALIT, Ph.D.
Founder, President, Principal Teacher at Organic Torah
Natan Margalit was raised in Honolulu, Hawaii. He received rabbinic ordination at The Jerusalem Seminary in 1990 and earned a Ph.D. in Talmud from U.C. Berkeley in 2001.  He has taught at Bard College, the Reconstructionist Rabbinical College and the Rabbinical School of Hebrew College. Natan is Rabbi of The Greater Washington Coalition for Jewish Life, in Connecticut. Natan is a member of the Va'ad (Core Faculty and Steering Committee) of the ALEPH Ordination Program, where he is Director of Rabbinic Texts. He is Founder and President of Organic Torah. He lives in Newton, MA with his wife Ilana and their two sons.