Learn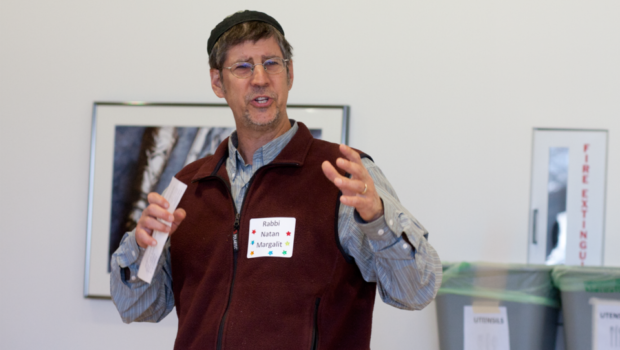 Published on May 15th, 2018 | by Leah Lazer
1
Scholar in Residence
Bring Rabbi Margalit to your institution as a Scholar in Residence, for a speaking engagement, Shabbaton, interactive workshop, or for customized rituals and text studies. Click here to download our 2019 Program Offerings flyer.  Click here to see examples of past events and classes.
Our Approach
Albert Einstein said, "You can't solve a problem with the same kind of thinking that got you into the problem in the first place." For a long time we in the Western world have tried to control, manipulate and use the world by breaking it down to smallest parts. Now, we're learning how to reconnect.
Organic Torah integrates ancient Jewish wisdom with new directions in modern thought such as ecological and systems thinking. This approach to Jewish texts focuses on patterns, recovers the organic vibrancy of our traditions, and helps reveal their relevance to modern lives.
As one participant in our classes puts it, Organic Torah "pairs modern day science writings with stuff out of the Torah, the Mishnah, and the Talmud in the same way that a chef would pair wines with food." We'd love to bring our delicious pairings to your congregation or institution!
Workshop Menu
Choose from the topics below, or suggest your own idea.
1. Ecological Judaism for the 21st Century

• Find an Eco-Jewish perspective that inspires us to action.
• Explore Jewish contributions to fighting climate change, ecological degradation and creating a flourishing world.
• Develop new ways to see ourselves as integral parts of the miracle of Life.
2. Organic Torah: A New Synthesis
• Find a new harmony between science and religion.
• Explore how Jewish "organic thinking" helps us with in many areas from environment to spirituality, from health to social justice.
• Develop a new, integrated way of looking at Jewish texts, nature and ourselves.
3. Tree of Life Learning: How to Read Classic Jewish Texts So They Come Alive
• Find the deep meanings hidden in perplexing biblical, rabbinic and mystical texts.
• Explore the ways that these ancient texts give insights into our own lives.
• Develop confidence and skills in opening up the secrets of our textual heritage.
4. The Holistic Spiritual Journey: Jewish Paths to Connection, Creativity and Fulfillment
• Find a combination of traditional and innovative Jewish paths to spiritual growth.
• Explore meditation, movement, dynamic discussion, textual play and more.
• Develop your own skills and practices for continued spiritual growth.
Additional examples of past workshop titles:
Three Bridges from Ancient Wisdom to Social and Ecological Justice
Emergent Judaism: How an Ancient Tradition Gets New Ideas
Exploring an Ecology of Torah Texts
Ecological Justice and Judaism: A Deep Shift in Consciousness
Why Bother? Mitzvah, Hope, and Planting a Garden
Roots of a Jewish Ethics of Eating
Beyond the Culture of Control